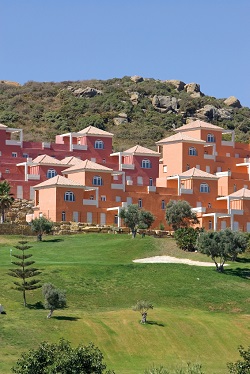 Andalucia is undoubtedly one of Spain's most in demand golfing destinations. The region is host to well over 100 golf courses. The region experiences around 300 days of sunshine each year, making this the perfect climate for a round of golf no matter what time of year it is.
Thus, many British golfers choose to swap the poor UK weather and journey out to Spain to bask in the Spanish heat whilst playing golf.
Why you should play golf in Andalucia
Many of Andalucia's golf courses sport a stunning mountain or sea view. For this reason, you really can't fail to be impressed by Andalucia's golf course offerings.
The Cadiz and Malaga regions are by far the most popular golfing destinations in the Andalucia region. This is because both regions run parallel to the beautiful Mediterranean coast. Furthermore, both regions are well served by local airports and transportation links.
Other Andalucia golfing regions include Seville, Granada, Huelva and Almeria.
The region is also well served by a number of affordable hotels that specifically cater to the needs of golfers looking to play in the Andalucia region.
There's no coincidence the region has become known the Costa del Golf!
And the region hosts golf courses suitable for both beginner and advanced golf players.
Our golf equipment hire in Andalucia
Unfortunately, many airlines continue to profit from your golfing passion by levying unfair charges for transporting your clubs to Andalucia. Click here for more information on this unfair practice.
Thankfully, the need to transport your clubs to Andalucia is a practice you no longer must endure. This is because Travel Caddy offers a highly affordable golf hire service covering the entire Andalucia region. We even drop your clubs off to your location rather than expecting you to travel to us! This reflects our total commitment to customer satisfaction and flexibility to suit your precise needs and wants.
We hire top brands including Nike, TailorMade, Callaway and Srixon. We maintain a huge inventory of golfing equipment and accessories. All of our equipment is maintained to a professional standard and we insist on providing top brands to ensure your game does not suffer when you choose to play golf in Andalucia.
For as little as €7.00 a day, you are able to access a full cart of essential golfing equipment including irons and drivers etc.
We provide golf equipment for males and females as well as for left and right handed players.
How to hire golf clubs through Travel Caddy
To book your golf clubs through Travel Caddy, click here and select the dates you wish to hire for. Also, input your intended drop off location if known. Alternatively, contact us through this website.